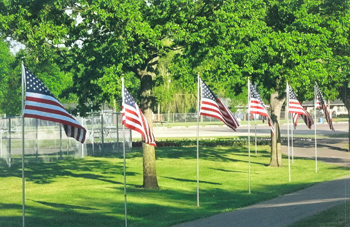 FARGO MOORHEAD SERTOMA FLAG SERVICE
Thanks to the overwhelming community support of Holiday Lights 2020, the Fargo Moorhead Sertoma Club has donated a total of over $20,000 to various local non-profits during Giving Hearts Day. Here is the list of those who received support: Emergency Food Pantry, First Link, Moorhead Legacy Education Foundation, Got No Milk (Fargo Public Schools), North Dakota Assistive (Assistive Technology), A Place for Hope - Recovery and Wellness Center, Great Plains Food Bank and Hope Inc. (Adaptive Sports and Recreation). In addition, approximately 4000 pounds of donated food was collected and distributed to local food pantries.
Sertoma Flag Sponsors
Please consider becoming a Sertoma Flag Program Sponsor. Use the "Flag Sponsorship Form" button to download and complete the application form. Mail the application and check to the address found at the bottom of the form. Contact Sertoma if you have any questions. Thank you for supporting our community.
Thank you to the following Sertoma Flag Sponsors!
ABC Seamless
Alerus Financial
American Federal Bank
Bell State Bank & Trust Northport
Bell State Bank of Fargo
Bell State Bank of West Fargo
Beverage Wholesalers
Blue Cross Blue Shield Caring
Foundation
Border Bank / Union State Bank
Brosis Properties
Carpet World
Central Door and Hardware
Centre for Hair
Choice Financial
Corwin Chrysler
Crane Johnson Lumber
Culinex
Custom Graphics
Dakota Fence
Dawson Insurance a Marsh
and McLennan Agency
Essential Health
F.F. Fisher Sales and Leasing
Fargo Freightliner
Fargo Glass and Paint
Fargo Linoleum
Fargo Northwest Pipe
Fargo Park District
Fiebieger, Swanson & West
Brady Martz Associates
Floor To Ceiling
Furniture For Less
G & M Lathing Contractors
Gate City Federal
General Equipment Supply
Hanson & Runsvold Funeral Home
Heartland Hearing
Heartland Insurance Association
Houston Engineering
John T. Jones Construction
Johnson, Mottinger & Greenwood
K & B Properties
Kallod Carpet
KOTACO Fuels and Propane
Lunde Lincoln Mazda
McArthur Tile Company
MidAmerica Steel
Nelson International Truck
Park Company
Petro Serve USA -
Farmers Union Oil
RDO Equipment
Rosewood on Broadway
S & S Promotional Group
Sandy's Donut Shop
Sanford Clinic
Sanford Health
Schellack Bros Ag Sales
Schumacher Goodyear
Serkland Law Firm
Sheyenne Hearing Service
St. Anthony Church
Steen and Berg
Structural Materials, Inc
Swanston Equipment Company
Ted's Northport Texoro
The Forum
TrueNorth Steel
United Power Equipment
Universal Carpet Service
Villa Maria
Wallwork Truck Center
West Fargo City Hall
West Funeral Home
Wrigley Mechanical