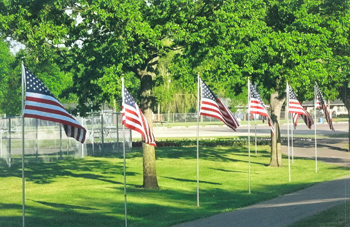 FARGO MOORHEAD SERTOMA FLAG SERVICE
For nearly 20 years, the Fargo Moorhead Sertoma Club has provided an important
service to the community by arranging for the display of our nations flags at Lindenwood
Park located at 1905 Roger Maris Drive South in Fargo. Many local businesses have
been long time supporters of this program since it started, providing funds for the
purchase, care and placement of the flags on designated holidays and days of honor
and recognition, commemorating our veterans, our history, our leadership and our
losses.
There are seven days a year that the flags will be displayed in Lindenwood Park.
Those days are – Armed Forces Day, Memorial Day, Emancipation Day, Flag Day,
Independence Day, Labor Day and September 11th.
Sertoma Flag Sponsors
Please consider becoming a Sertoma Flag Program Sponsor. Use the "Flag Sponsorship Form" button to download and complete the application form. Mail the application and check to the address found at the bottom of the form. Contact Sertoma if you have any questions. Thank you for supporting our community.
Thank you to the following Sertoma Flag Sponsors!
ABC Seamless
American Federal Bank
Aramark
Bergseth Brothers Company
Bernie's Wines and Liquor
Beverage Wholesalers
Border Bank/Union State Bank
Brady Martz and Associates
Brosis Properties
Carpet World
Central Door and Hardware
Corwin Chrysler
Corwin Toyota
Culinex
Custom Graphics
Dakota Fence
Dakota Supply Company
Don's Car Wash
F.F. Fisher Sales and Leasing
Fargo Freightliner
Fargo Glass and Paint
Fargo Linoleum
Fargo Northwest Pipe
Fargo Park District
Fargo Tire
Floor To Ceiling
Furniture For Less
G & M Lathing Contractors
Gate City Federal
General Equipment Supply
Hanson & Runsvold Funeral Home
Heartland Insurance Association
Houston Engineering
John T. Jones Construction
Johnson, Mottinger & Greenwood
K & B Properties
Karl's
Knight Printing
KOTACO Fuels and Propane
McArthur Tile Company
MidAmerica Steel
Nelson International Truck
Petro Serve USA - Farmers Union Oil
RDO Equipment
Rosewood on Broadway
S & S Promotional Group
Sandy's Donut Shop
Sanford Clinic
Sanford Health
Schumacher Goodyear
Serkland Law Firm
Sheyenne Hearing Service
St. Anthony Church
Steen and Berg
Structural Materials, Inc
Ted's Northport Tesoro
TrueNorth Steel
United Electric Service
United Power Equipment
Villa Maria
Wells Fargo Bank
West Rock (Fargo, ND)
Wrigley Mechanical